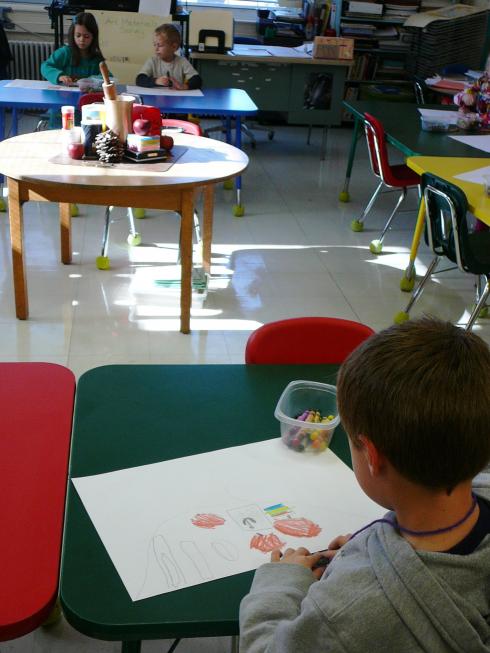 Drawing from Life: Kindergarten learns about Still Life
Mrs. Kimberly Olson
Specialists


Send me an e-mail
Welcome to the Art Room!
Hello! I have been teaching at Centre School for 17 years. Students in my classroom experience Integrated Visual Art and Art History through the lenses of Common Core learning. We read and write about art and artists, making connections between math, science and social studies. Students learn about the lives of the artists through photographs, books, maps, music and foreign language. Students build visual skills through the Elements of Design, foundational life drawing instruction and media exploration, the Design Thinking process, hands on and constructivist approaches to solution finding. Student individuality and sense of self is fostered and celebrated as we explore the diversity of an ever visual world. Learning Experiences access resources from my classroom Nature lab, Tinkerlab and Library. My curriculum is based in the National Visual Arts Standards. View the standards by grade level in the tabs at the left. In addition, integrated standards are embedded across all content areas, accessing transdisciplinary opportunties between Visual Art and Art History, C3 Social Studies, Next Generation Science and Common Core State Standards in Math and ELA. In addition, Social-Emotional Learning competencies and Responsive Classroom components can be found throughout all student learning. Art offers a rich and receptive platform to combine vital aspects of whole child development.

Classes:
Integrated Visual Art Education & Art History-Pre-School, Kindergarten, First and Second Grade, STEAM lab: Science/Technology/Engineering/Art & Math, Art Write!: Art lessons integrated with Writer's Workshop, MuseArt: Integrated Art & Music, Remote and online instruction based on my standards-based curriculum and integrated programming
My Education:
Certificate of Advanced Graduate Studies; Curriculum and Instruction Administration, SNHU
Master of Arts in Teaching, Rhode Island School of Design
Bachelor of Fine Art, Illustration, Rhode Island School of Design
Extra/Activities
Art Box: Second Grade After School Art program offers children a convenient and affordable opportunity to participate in focused art media running the gamut from drawing to sculpture. These specialized lessons will expose students to the diverse tools and approaches visual art provides as an adjunct to their grade level school day curriculum. Students will learn about these new areas based on specific historical genres and references. All lessons will articulate direct skill-building connections linked to students' advancement in their integrated grade level Visual Art Curriculum. Method areas include Drawing, Printmaking, Collage, Bookbinding and Sculpture and STEAM-based lessons. Enrichment curricula is offered as the schedule and student population warrants. Enrichment courses offered in past years have included integrated content such as Art and Writer's Workshop, Art and STEM, Music and Art and Technology and Art. Join me each summer for Camp Invention and Museum Camp at UNH!